Craft isnt all about the sequins and the glue, edible Food craft can be fun as well.Whats not to like with combining food and crafting at the same time?
I love these two ideas for little ones to make or for mum to make and serve up as a surprise! Any form of creativity is good for the mind, lets just hope your little one doesnt eat it all before you have finished your master- chef piece (sorry!)
Sweet strawberry snakes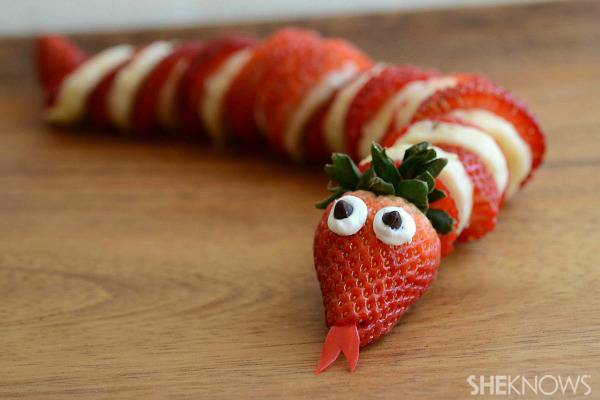 Serves 2
Ingredients:
1 pint strawberries
1 large banana
Vanilla frosting
2 mini-chocolate chips
1 red Fruit Roll-Up
Directions:
Slice the strawberries, except for one, and bananas into medium-size slices. Place the one large strawberry on a plate. Line the sliced bananas and strawberries behind the large strawberry in a snake like pattern. Add the small tip of the strawberry at the end for a rattle tail. Optional: To make the snake hold together, place small dollops of frosting between each piece and press to adhere.
Place two dots of vanilla frosting on the top of the large strawberry head. Put two mini-chocolate chips in the center of the white dots.
Cut the Fruit Roll-Up into a tongue shape and place inside the head of the strawberry.
Green grape caterpillars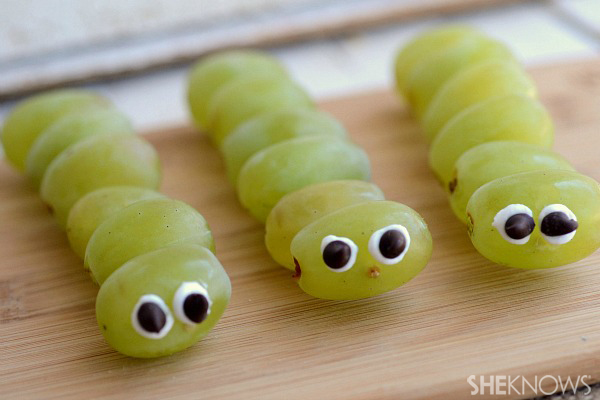 Yields about 6
Ingredients:
1 bunch of grapes
12 mini-chocolate chips
White frosting
6 smaller-size skewers
Directions:
Place about 6 grapes on each skewer.
Place two dots on the top of the grape on the end with the white frosting. Place two mini-chocolate chips into the white frosting.
Head on over to sheknows for more ideas.
So there is no excuse now for your little ones to eat more healthy in the new year!