Crafts for Dad
Its Mothers Day in the UK this Sunday, there is nothing more meaningful than receiving something that is made from the heart. It might look a bit messy, it might not look like what its meant to but knowing that its from your little one im sure means the world.
So i thought of getting some ideas together of crafts for dad to do with the kids in surprise ready for mum to open on Sunday.
What do you think? Id be over the moon to receive any of these gifts and knowing my little one and her dad had taken the time to do them together would make them even more special.
Handprint Pillow
I love how simple this is to make, follow the instructions on the fabric paint bottle and thats its!  A great memento to keep, you dont have to do a bed pillow for this you could also do cushions or how about a memory blanket with all your kids handprints or potential future kids 🙂
Craft supplies you will need:
Pillowcase

Fabric paint

Fabric signature marker

Paint brush

Plastic plates
Craft instructions:
Pour a small amount of paint onto the plastic plates.
Have the children paint one of their hands and then press their hand print on the front of the pillowcase.
Repeat the process till the pillowcase is full of hand prints.
Once done, add the names to each hand print with a fabric signature marker.
see more here.
Children can try making this pretty coffee filter rose for Valentine's Day or Mother's Day – it's so pretty, who wouldn't be happy to receive it!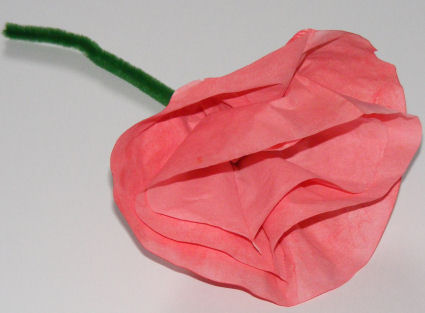 You will need:
3 coffee filter papers
Red paint
Green chenille stem
Instructions:
Water down the paint (approx 4 parts water to one paint). Paint the filter papers. Let dry (you can speed things up by drying out in the oven on a very low heat for a few minutes).
Trim two of the filter papers so you have three different sizes. See photo below.
Fit the smaller two papers inside the largest. Open out into a cone shape and twist the bottom to form a point. Wrap the chenille stem around this to hold the papers together. Leave the other end of the chenille stem loose to be the flower stem.
Wooden Handprint Slices
Handprint Card
I love how simple this would be, you can use it as a card and write on the back.
Handprint Butterflies
Another handprint craft, im starting to think i have an obsession with hand and foot prints! i think its envy on how everyone can get such good pictures i definitely need more practice!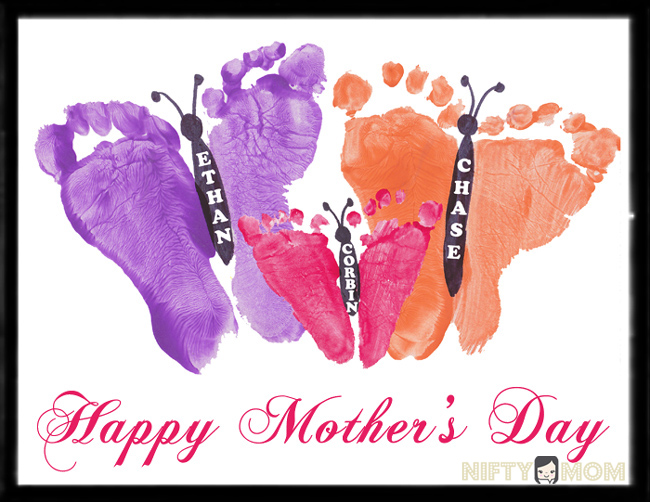 Keep an eye out for more Mothers Day craft ideas over the next few days.