Last minute Mothers Day gifts homemade by kids
So its Mothers Day this Sunday in the UK , if you havent had time/not managed to find anything or just want to make something homemade, here are a few last minute ideas for Mothers Day.
I really like this idea as it uses a simple cardboard box, that you could even get from the recycling! Plus its made personal by your little ones and like it says in the post im sure it will make you smile every time you look at it.
These flowers are your personal photos and then cupcake cases, definitely something that can be made up simply in the house.
Just a little bit of paint, card and your little ones fingers, what more could you want for a last minute,inexpensive gift? A personal poem can be added and printed as well if needed.
You can use Oven gloves you already have in the house, or you can purchase these quite cheaply in supermarkets, this adds a personal touch so whenever mum uses them she will be reminded of the hands of her little troubles 🙂 Use your little ones hands and some fabric paint (remember to follow the instructions for the fabric paint on the bottle).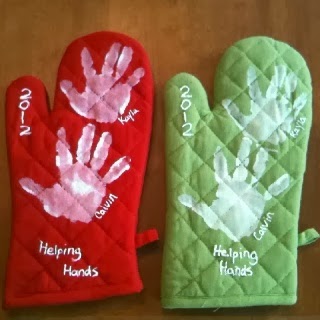 Another handprint idea, but you know i love these! 🙂 using fabric paint and some hands and magic! you have an inexpensive personal gift. You can even use a cotton apron that you already have.